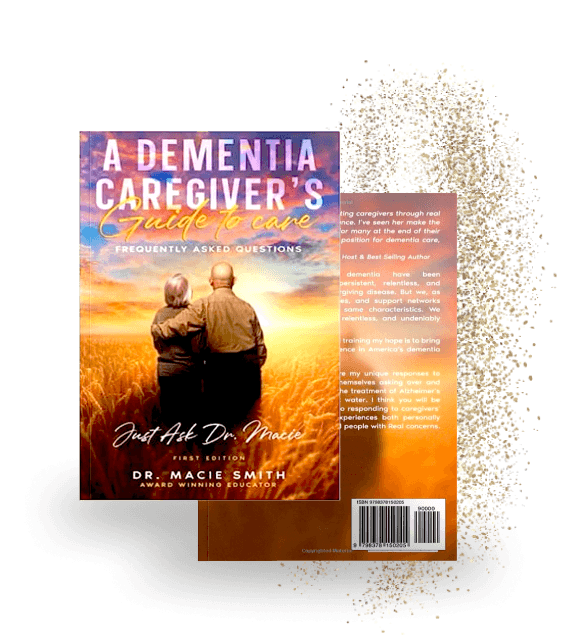 Take a peek inside Dr. Macie Smith's Frequently Asked Questions Dementia Care Guidebook that has been featured on Amazon Best Sellers list.
Leeza Gibbons, Emmy Winning TV Host, Best Selling Author & Caregiver Advocate writes about the book:
"Macie has a unique way of supporting caregivers through real world scenarios and practical guidance. I've seen her make the challenge much more manageable for many at the end of their ropes. If you need a basic starting position for dementia care, this book is for you."
What you will find in this 54-page interactive guidebook are Dr. Macie Smith's unique responses to typical questions dementia caregivers find themselves asking over and over again. As a Licensed Gerontology Social Worker, Dr. Smith responds to questions that range from the treatment of Alzheimer's to getting your loved one to drink water. You'll be happy to know that Dr. Smith's approach to responding to caregivers' questions is through 19 years of real world experiences both personally and professionally. It's real talk for real people with real concerns-Because more than 15 million dementia caregivers deserve practical tangible information to help guide their journey.
A few of the frequently asked questions in this book include:
Is There A Difference Between Alzheimer's & Dementia?
How is Dementia Diagnosed?
Why Is Mom Cursing All The Time?
How Can I Get Them to Drink More Water?
Glossary of Common Terms
Notes Page
If you are a Caregiver caring for someone with dementia or you know someone who is, and you're looking for quick, tangible, realistic responses to real concerns, then this is the book for you. Download your guide today, Amazon.com: A Dementia Caregiver's Guide to Care: Just Ask Dr. Macie eBook : Smith, Dr. Macie: Books.